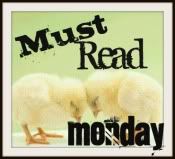 The goal of the Must Read Monday is to find share your love of great books with others in the hopes that they'll add a new title to their To Be Read list.
Your job is to create intrigue for other hoppers. What makes your book so swoon-worthy? What do you absolutely have to mention so they'll read it?
On your post, you'll make an acrostic puzzle (think of it as an overview/book blurb type of thing).
For specific ways to build your puzzle, click here, but pretty much any style of acrostic is welcome.
When you leave comments on other posts, be sure to mention whether you're adding that book to your TBR pile, and what part convinced you to do so.
It's all about powers of persuasion, people:) You might have to think a little, but channel that inner-creative goddess (or god).
This week's category: Fantasy (or some book with fantastical elements)
Angels are not the benevolent guardians we once imagined
Nemesis may become ally in the fight for survival
Gone is any semblance of order
Earth lies in ruins and is ruled by chaos
Left are those wise enough to adapt
Fear motivates in unpredictable ways
An enemy broken by his own kind
Left for dead, she saves him
Love is not an option
Thanks so much for choosing me as the winner of last week's Must Read acrostic! I have to admit to being super surprised! I love reading everyone else's acrostics, they are all so incredibly creative! This is such an entertaining way to learn about different books!
I chose Angelfall by Susan Ee because this was one of my favorite reads of 2011. I usually don't like books about angels, but this one was nothing like the usual angel books. Angelfall takes place in a dystopian world that has been destroyed by the archangels of the apocalypse. The story revolves around a girl, Penryn, and her small family trying to survive in a world that has gone completely mad. When she impulsively decides to save an angel Raffe from being torn apart by his own kind, things quickly get even worse. I can't recommend this book highly enough! Click the cover below to add Angelfall to your Goodreads shelf!