While there were several challenges I began but didn't quite complete successfully, including my goal of 100 books in a year (Only read 85) I am happy that I was able to complete at least two of my challenges, The first one- The Story Siren's 2011 Debut Author Challenge - I read and reviewed 21 debuts in 2011, yay!!! Two of them ended up being my absolute favorite reads of 2011, Anna Dressed in Blood and Angelfall. 2011 was an AWESOME year for debut authors! I can't wait to check out the 2012 Debuts and have already signed up for the 2012 DAC!! How about you? Which debuts did you read this year?
1. Beth Revis - Across The Universe
2. Cynthia Hand - Unearthly
3. Kristi Cook - Haven
4. Julia Karr- XVI
5. Laruen DeStefano - Wither
6. Ransom Riggs - Miss Peregrine's Home for Peculiar Children
7. Karsten Knight - Wildefire
8. Veronica Roth - Divergent
9. Amy Plum - Die For Me
10.Jo Treggiari - Ashes, Ashes
11.Anna Carey - Eve
12.Jennifer Castle - The Beginning of After
13.Anne Ursu - Breadcrumbs
14.
Moira Young - Blood Red Road
15.
Gretchen McNeil - Possess
16.
Kendare Blake - Anna Dressed in Blood
17.Tahereh Mafi - Shatter Me
18.
Susan Ee - Angelfall
19.Suki Michelle and Carlyle Clark - The Apocalypse Gene
20.Amy Kathleen Ryan - Glow
21. Ruta Sepetys - Shades of Gray
************************************************************
**********************************************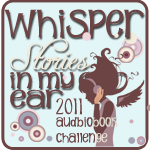 I didn't do too bad with the audiobook challenges I signed up for at Bewitched Bookworms and Teresa's Reading Spot. While I didn't quite make it to 20, I came close. I have so much fun listening to audiobooks!! With the right narrator and the right story, an audio book can be the best way to experience a book. For example, The Book Thief by Markus Zusak and Shades of Gray by Ruta Sepetys were two examples of an amazing story with a phenomenal narration!! I didn't listen to quite as many audiobooks as I would have liked in 2011, but I still finished 17 which isn't a bad number. I'm going to try for twenty in 2012!
1.
The Book Thief by Markus Zusak
2.
If I stay by Gayle Forman
3.
Need - Carrie Jones
4.
Neal Shusterman - Everlost
5.
Before I Fall by Lauren Oliver
6.
Dolen Perkins-Valdez - Wench
7.
Julie Berry - The Amaranth Enchantment
8.
Brom - The Child Thief
9.
Amy Kathleen Ryan - Glow
10.
Robert Kirkman - The Walking Dead - Rise of the Governor
11.
Meg Cabot- Abandon
12.
Veronica Roth - Divergent
13.
John Connolly - The Gates
14.
Mary E. Pearson - The Adoration of Jenna Fox
15.
Suzanne Collins - Hunger Games Trilogy
16.Ruta Sepetys - Shades of Gray
17.
Suzanne Young - A Need So Beautiful
Which challenges did you complete in 2011? Were there any that you, like me, didn't quite manage to finish?
******************************************************
*********************************************
*******************************************