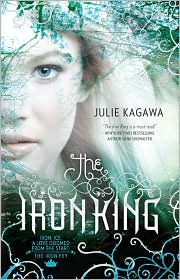 The Iron King - by Julie Kagawa
Goodreads synopsis: Meghan Chase has a secret destiny - one she could never have imagined....
Something has always felt slightly off in Meghan's life, ever since her father disappeared before her eyes when she was six. She has never quite fit in at school...or at home.
When a dark stranger begins watching her from afar, and her prankster best friend becomes strangely protective of her, Meghan senses that everything she's known is about to change.
But she could never have guessed the truth - that she is the daughter of a mythical faery king and is a pawn in a deadly war. Now Meghan will learn just how far she'll go to save someone she cares about, to stop a mysterious evil no faery creature dare face...and to find love with a young prince who might rather see her dead than let her touch his icy heart.
The Iron King is a wonderful blend of the characters from a Midsummer Night's Dream with an original story and the added element of a half fey teenage girl.
It seems Puck has been keeping an eye on Meghan for years, although Meghan only knew him as her best buddy Robbie, not as the immortal fey of legend. All of this changes though on her 16th birthday when Meghan's little brother Ethan is apparently kidnapped by the fey and a bloodthirsty little changeling left in his place. Meghan soon finds herself thrust into the adventure of her life as she travels to the Nevernever to rescue her brother. Along the way, she starts to come to terms with who she really is and that she is not as helpless as she thinks.
I enjoyed the unique twist Kagawa added with the Iron Fey. It was interesting and made sense in the context of the story. I can't wait to find out more about the pack rats and some of the other iron fey. The world building was perfection, I absolutely lost myself in the Nevernever and was thoroughly entertained by all of the creatures Meghan ran into on her journeys. The fey were represented in a way that was true to many fey legends, but with Kagawa's own spin. I love stories about the fey, so I was so pleased at how beautifully they were portrayed in this novel. I did however wonder what made Kagawa write Titania as such a spiteful character.
Grimalkin was probably my favorite overall, I adore witty sarcastic characters, and this snarky cat was brilliant. Meghan seemed to be a bit of a weak character, I would love to see her grow more into what power she has, meaning both her magical abilities as well as personally, throughout the rest of the series. I'd like to see her show a little more backbone. I also really enjoyed Puck's mischievous nature as well as Ash's brooding aloofness.
Overall, the Iron King was highly entertaining, full of adventure, and certainly memorable. This series will be joining my shelf of favorite reads of 2010.
Rating: 5